Royal Friesland CAMPINA NV, a dairy giant, is thinking about plans for its baby nutrition business, as the company is trying to simplify its business, according to people familiar with the matter.
Fislan is working with JPMorgan to conduct a strategic review of FRISO, the person familiar with the matter said. At present, the review is still at an early stage, and Philips has not made any final decision on the future of this business. This means that fislan is likely to sell the Mercer baby formula business.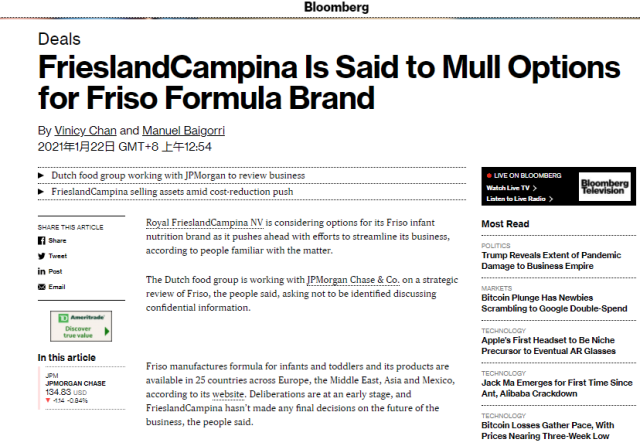 Just now, in response to foreign media news, Feishi LAN China responded to xiaoshidai: "recently, there are media reports that royal Feishi LAN of the Netherlands is evaluating the business of Mercure. We don't comment on market rumors. "
"What we want to emphasize here is that the Mercure brand and our infant nutrition business will not be sold. In this specific case we would like to emphasize that the FRISO brand and our infant nutrition activities are not for sale.
"In 2020, covid-19 market was affected by the new crown epidemic situation in various industries, and the competition in infant matching market was also fierce. In this context, all the employees of freesland China are united and United. Mercure's business in China has achieved good results, and its annual net sales have increased greatly. According to the latest data from Nielsen, the market share of Mercure in high-end and ultra-high terminal categories has increased. " Feishilan China tells xiaoshidai.
The company said today that freesland will continue to provide high-quality products and services for Chinese mothers and babies, and work hand in hand with its partners to achieve long-term development in China.
Famous brand
This time, it is said that Mercure, which is likely to be stripped by freesland, is a world-famous infant formula brand. According to the global official website of freesland, minocycline infant formula is sold in 25 countries / regions including Europe, the Middle East, Asia (including China) and Mexico.
According to Euromonitor International, the market for infant formula is expected to grow from US $54.7 billion (about RMB 353.778 billion) last year to US $59.5 billion (about RMB 384.822 billion) in 2022. Last year, with a global market share of 3.3%, Mercure was the seventh most popular formula brand in the world. However, compared with 4.2% in 2017, Mercure's market share has declined.
At present, the proportion of Mercure in the overall global business of freesland is not high, but it is the "core business" of freesland China.
Today, a person familiar with the milk powder industry told xiaoshidai that freesland is an enterprise in the whole industry chain. The infant formula corresponding to the company's Mercure brand accounts for a small proportion of the company's overall business, but the business in freesland's Chinese market accounts for the majority.
And the Chinese market is also the biggest source of income for Mercure. "Mercure's business in mainland China and Hong Kong can account for up to 90% of the brand's global business." The source said.
Xiaoshidai learned that there had been industry rumors without official confirmation that Mercure Jiaer brand had sought external acquisition and capital operation, including talks on strategic cooperation with hillhood capital, and even reports that domestic dairy enterprises had intention to move.
According to the official website of Mercure China, the brand's full range of products currently sold in the Chinese market include Mercure, Royal Mercure, Mercure's mother, and Mercure's exclusive version of novas, which will be launched at the end of 2019.
According to Nielsen's data, Mercure's market share in China has increased steadily from 2013 to 2016. By June 2016, its market share had reached 8.2%, ranking third. In 2019, Mercer ranked fifth in the domestic infant formula market.
After taking office in 2019, Chen Ge, President of Royal freesland China, made great efforts to promote the efficiency of freesland's infant nutrition business. He also proposed to reach more consumers through more product innovation. At the same time, he also promoted freesland to speed up the repair of super high-end milk powder business to ensure the stable supply of Royal freesland.
According to the official public data, as of November last year, the sales volume of Royal Mercure had exceeded 2 billion yuan. According to Nielsen, Royal Mercure's share of super high-end products reached 4.6% in September last year.
Accelerate transformation
Although this rumor has been quickly denied, one thing is certain, that is, fislan is implementing cost saving and business streamlining plans.
In November last year, freesland released the plan of "accelerating transformation". The official website of covid-19, which is read by snack, shows that, mainly due to the direct and indirect effects of the new crown epidemic, fice LAN evaluated its "Our Purpose (Our Plan)" strategy which was launched in 2018.
"The conclusion is that although the current strategy has improved in relevance, it needs to be implemented more quickly and forcefully, pay more attention to growth categories, and reduce costs structurally." Feishi Lan said that the goal of accelerating the transformation is to make Feishi LAN adapt to the future development, "even under the extremely challenging market conditions we are witnessing today, it can operate successfully."
Specifically, it includes the following five aspects:
Optimize organization to reduce cost: focus on production network, management, supporting services and functions. By the end of 2021, about 1000 jobs are expected to be lost, mainly in the Netherlands, Belgium and Germany.
Starting from 2022, it is estimated that more than 100 million euros (about 787 million yuan) of structural costs will be saved each year. Restructuring costs range from 150 million euros to 175 million euros (about 1.18 billion to 1.377 billion yuan), most of which will be deducted from 2020 profits.
To save costs, senior managers do not have a long-term bonus for 2020.
To further reduce the business portfolio, it is possible to divest non core assets to enhance the company's net asset value.
Accelerate the implementation of "our goals, our plans" strategy.
When launching the accelerated transformation plan in November last year, Hein Schumacher, Global CEO of freesland, said: "most of our operating companies have increased revenue so far, and we have strengthened our position in important consumer markets such as the Netherlands, the Philippines, Pakistan, Indonesia and China. However, we are experiencing a perfect storm in 2020. "
Hein Schumacher, Global CEO of freesland
"The losses directly or indirectly caused by the new crown, such as the border closure between China's Hongkong and the mainland of China, the decline in global restaurant service revenues and the depreciation of local currencies such as the Nigeria, the euro and the decline in bulk dairy prices all have a significant financial impact on our profitability in 2020 and can not be completely offset." Said simahan.
Priorities
Based on the above plan, freesland has identified five priorities for the transition period.
The first is to accelerate the implementation of the strategy of "our goals, our plans". According to the introduction of xiaoshidai, the strategy includes four themes: 1) to win with nutrition products, including infant formula business in mainland China and Hong Kong market; 2) to serve consumers and customers 24 / 7 anytime and anywhere; 3) to lead sustainable development; 4) to improve product value.
"Due to the epidemic crisis, the importance of nutritious dairy products continues to grow in our domestic and emerging markets. We will continue to innovate and invest in this area, independently and, where relevant, prudently through strategic partnerships. " Said simahan.
In addition, he pointed out that not only in retail and catering service channels, but also in e-commerce, freesland should accelerate its development. At the same time, due to the epidemic crisis leading to the pressure on the prices of bulk dairy products, feishilan will promote faster growth of products with higher added value and higher profit margin.
Second, freesland plans to seek new market channels to sell infant milk powder from Hong Kong to the mainland market, increase e-commerce and product innovation.
"For many years, Hong Kong, China has been an important gateway to the South China market." The company said that due to the disruption caused by the epidemic, this market access is no longer feasible, "and our business profitability in Hong Kong is under great pressure."
"We are implementing new market channels for Hong Kong and South China, in which e-commerce and product innovation play an important role. Nevertheless, it will take some time for this new market access to replace the old one in terms of revenue and profit. " Feishi Lan said.
In fact, Mercure has made some achievements in cross-border e-commerce channels. Xiaoshidai introduced that in the first half of 2020, the net sales of freeslan China increased by 18%. In the 618 promotion last year, the sales volume of Mercure in general trade channels increased by 90%, while the sales volume of cross-border e-commerce increased by 782% compared with the same period last year.
Third, optimize the organization. "Supply chain productivity needs to be further improved, especially in the Netherlands, Belgium and Germany. Our focus is on those production bases with structural overcapacity. " The relocation and / or (partial) closure of certain production sites is in line with this strategy, feisland said.
Fislan also mentioned that it will continue to review its global business portfolio based on its focus in recent years. "As a result, non core assets may be divested."
Fourth, fislan said that the proceeds from the potential divestiture would be used to strengthen the company's net asset value. Fifthly, we should maintain and strengthen the corporate culture of "goal driven, result oriented, customer and consumer first".
As you can see, freesland has started to move.
In terms of divestiture, according to a report by Peng Bo earlier this month, fislan plans to sell 50% of its Thai yogurt joint venture betagen and is looking for a buyer. The price of the deal could be as high as US $500 million (about RMB 3.234 billion).
After making it clear today that "Mercer will not be sold", although it is not clear for the time being which "non core assets" freesland will divest, the "key business" that the Dutch dairy giant chooses to add weight to should include food ingredients.
Xiaoshidai noticed that while closing some factories, feishilan was also increasing part of its production capacity. In September last year, feishilan announced that it would expand its lactoferrin production line on a large scale. Feishilan food ingredients business group said at that time that the Dutch Veghel plant would increase the annual production capacity of 60 tons of lactoferrin from 2022. By then, the total lactoferrin production capacity of freesland will reach 70 tons per year, making freesland the largest lactoferrin producer in the world.
▼
Pay attention to "xiaoshidai" (wechat: foodinc) "and reply to" feishilan "to see the wonderful news.