French food giant Danone has "teamed up" with China's local dairy company obijia!
Just now, Danone China and obijia replied to the snack representative: "Danone has reached a strategic cooperation with Hunan obijia nutritional food Co., Ltd. to invest in and develop its local infant formula factory and products. The transaction is expected to be completed in the first quarter of 2022." The two sides did not disclose the specific amount of the transaction.
When asked whether it would retain the management team and continue to produce the original brand products after the strategic cooperation, obijia replied that it was "inconvenient to disclose more details" and only paid attention to the caliber of shendanone.
Today, song Liang, an independent dairy analyst, told xiaoshidai that the purpose of Danone's strategic cooperation is to "obtain the qualification of domestic formula registration". It is expected that some personnel of obijia's original team, including production, management and marketing, may be retained, and some of obijia's brand may also be retained, but it depends on Danone's consideration. He also believes that acquiring a brand locally can basically meet Danone's current needs.
Let's pay attention.
"Team up" obijia
Obviously, this is the latest big move of Danone to add weight to China's infant formula sheep milk powder market.
At present, the infant nutrition giant operates well-known infant milk powder brands such as altami and nuoyneng. At the same time, its keruikang brand produces sheep milk powder and enters China through cross-border e-commerce. Today, xiaoshidai searched on the cross-border e-commerce platform and found that the price of a can of 900g of keruikang sheep milk powder under Danone is about 249 yuan, which is positioned at a high end.
Previously, Danone also reached a cooperation agreement with Yashili factory in New Zealand to produce sheep milk powder. In October 2019, Yashili International announced that its wholly-owned subsidiary New Zealand dairy entered into a service agreement with Danone's indirect subsidiary and Danone's member company milupa. Accordingly, New Zealand dairy agreed to provide sheep milk powder processing services to milupa from time to time during the term of the service agreement.
Statistics show that obijia, headquartered in Changsha, Hunan, mainly produces and operates infant formula sheep milk powder products. It has milk powder production bases at home and abroad, including emer í factory in Ireland, Hulunbuir factory in Inner Mongolia and southern milk powder factory in Changsha, Hunan. Previously, obijia has obtained the registration qualification of 9 milk powder formulas, belonging to the three brands of Ou Suli, Yang Zizi and Ke Wei'an respectively.
The company previously said that the main original intention of investing 350 million to build eMRI factory is to improve its own controllable upstream supply chain. It also hopes to "enter" the camp of imported milk sources by integrating international resources, enrich its own goat milk product matrix and rank in the forefront of the sheep milk powder market. In the future, the group will deeply cultivate the sheep milk powder brand, expand the sheep milk product line and broaden the product matrix. In addition to infant formula sheep milk powder, the group will also produce a series of products such as children's sheep milk powder and adult sheep milk powder.
Today, song Liang told xiaoshidai that he believed that Danone might bring some overseas products to China, so "it may be a wholly-owned acquisition of obijia's factory in China, and it does not rule out the acquisition of obijia's factory in Ireland." However, the speculation has not been confirmed by Danone and obijia.
Ireland emry factory
Today, xiaoshidai checked the industrial and commercial data and found that Hunan obijia nutritional food Co., Ltd. was established on July 21, 2010 with a registered capital of 301.88 million yuan. Its business scope includes the production of infant formula food, the manufacture of milk powder, the production of rice flour, the sales of infant formula milk powder, the production of special dietary food, the production of health food, the sales of special dietary food Manufacturing of milk beverage and vegetable protein beverage, etc.
It is worth noting that just yesterday, Danone has "settled" in obijia.
Xiaoshidai checked the industrial and commercial data and found that obijia had a number of changes on March 2, 2022. Among them, the list of shareholders after change is Wang Deliang and Danone Asia Pacific Holdings Pte.Ltd. At present, the contribution of Obi ñ a Ltd is 6795000 yuan, and the subscribed proportion of Obi ñ a Ltd is 2880000 yuan.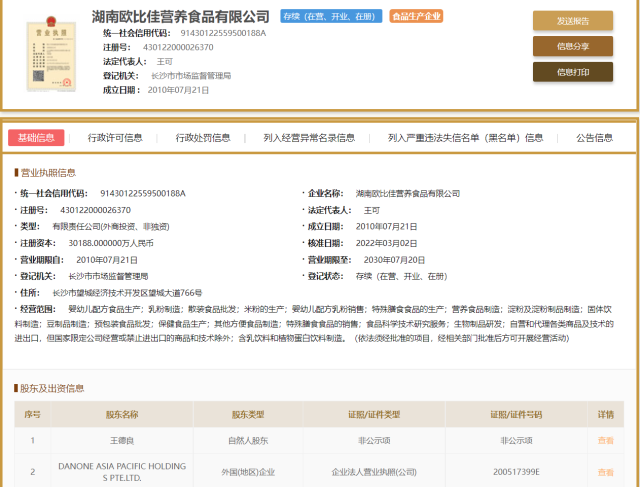 In addition, the industrial and commercial change of obijia yesterday also showed that the legal representative of the company was changed from Wang Deliang to Wang Ke. The filing of directors was changed from Wang Lu, Wang Deliang and Wang Dechun to Wang Ke, Jin Haofang and Xu Qian. After the change, obijia's key personnel information shows that Wang Ke is a director and general manager; Xu Qian is the chairman; Jin Haofang is a director; Fan Ping is the supervisor.
Overweight sheep milk powder
For Danone, the diversification of milk powder categories will help promote the growth of its infant nutrition business in China.
At present, Danone's infant nutrition business in China has a strong performance. According to its latest financial report released in February this year, in the fourth quarter of last year, the sales of the professional special nutrition sector of milk powder continued to improve, with a year-on-year increase of 6.4%. The sales volume and price drove the growth of 0.1% and 6.3% respectively. Driven by the market in China and the rest of the world, infant nutrition achieved very strong growth in the quarter.
In the Chinese market, Danone pointed out that in the fourth quarter, Chinese label products and foreign label products sold through cross-border platforms (Note: refers to the cross-border e-commerce channels officially developed by Danone) maintained growth and strong competition momentum. Antoine de Saint affrique, CEO of Danone, said that the growth of China's infant milk powder business was not driven by hoarding, and "praised" the Chinese team for being at the forefront of digital marketing and other work.
Juergen Esser, the company's chief financial officer, revealed that high-end series and special milk powder jointly promoted growth. He said that although the birth rate and other challenges, the trend of high-end will help alleviate the pressure. In addition, in order to cope with the competition, Danone also continues to carry out product price management, such as directly reaching the mother and baby stores in the low-line market through the B2B platform.
In recent years, milk powder enterprises and capital have "flocked" into China's sheep milk powder market, which is undoubtedly attracted by the growth rate of this category which is significantly higher than that of the baby milk powder industry.
According to Nielsen data, in the first half of 2019, the overall growth rate of China's infant powder market was 9.4% year-on-year, of which organic milk powder and ordinary infant milk powder were 16.8% and 10% respectively, while the growth rate of sheep milk powder was as high as 30.8%. Relevant data show that in 2020, the market scale of sheep milk powder in China was 10.4 billion yuan, of which the sales of local sheep milk powder market was 7.24 billion yuan, accounting for 69.62% of the sales of sheep milk powder market. China has become the world's largest consumer of sheep milk powder.
Statistics show that Shaanxi Province, as the first province in China to develop the goat milk industry and currently ranks first in the output and sales of goat dairy products in China, has produced many sheep milk powder enterprises over the years, including Heshi, Hongxing Meiling, Baiyue, Yatai and Shengtang. At present, Aoyou's jiabeiaite occupies the first place in the imported sheep milk powder brand.
In recent years, many dairy giants are eyeing China's infant sheep milk powder market. In fact, in the current environment of the overall slow growth of the milk powder industry, entering the sheep milk powder category has also become one of the best choices for milk powder enterprises to segment the market, meet the high-end trend and seek new growth points.
For example, Mengniu, Yili, Jianhe group and Wyeth all hope to take a share in this field: Mengniu Yashili imported "Dora lamb" from Australia, Yili jinlingguan imported "Youzi lamb" from the Netherlands, and kebeth, the first infant formula sheep milk powder under heshengyuan of Jianhe group, in April 2020, Wyeth's ultra-high-end illuma has also begun to develop the sheep milk powder Market and launch illuma Yunyou goat milk powder.
Obtain formula "quota"
In fact, the milk powder formula registration system introduced in the early years has created a more stringent regulatory environment and greatly improved the competition threshold and industry concentration. It is reported that when the formula registration system was just introduced in 2017, the number of domestic milk powder brands decreased sharply from more than 3000 to more than 1000 now.
After the epidemic affected the review of overseas milk powder factories and the release of the "new national standard for milk powder", enterprises are also facing great difficulties in obtaining approval for new formulas. Previously, some experts predicted that with the implementation of the new national standard and the secondary formula registration system, milk powder enterprises will face problems such as modifying formula, updating technology and modifying packaging, and the competition in the domestic milk powder industry will be more intense in the future.
Last year, a senior person in charge of regulations of a milk powder enterprise pointed out to the snack generation that the new national standard of milk powder puts forward stricter quality control requirements for enterprises. In addition, the requirements of the new national standard on the production process, R & D and production capacity of milk powder enterprises have also been improved. For example, the range of many nutrients is narrower than before, which also shows that enterprises need enough data to support stability.
If you want to have more "ammunition" in the red sea of baby matching, it is undoubtedly a shortcut to directly purchase local factories with formula quota in hand compared with preparing from scratch. It is worth noting that although the new national standard will not be officially implemented until February 22, 2023, many leading enterprises have been making intensive preparations.
Yan Weibin, chairman of Aoyou, pointed out last year that after the introduction of the new national standard, many milk powder companies are upgrading or registering new formulas according to the new standard. "The registration policy is still adopted in a relatively strict way. I believe that this is good for companies that seriously do a good job in R & D and production management, and the regulatory environment is still conducive to the head enterprises to deal with the competition.".
Cai Fangliang, President of Feihe, said last year that the domestic milk powder industry will usher in a new round of reshuffle under the new national standard. "From the perspective of industry influence, I think that after the implementation of the new national standard in the future, it may be a new integration process for the industry. I believe that many first and second tier brands will have opportunities, and everyone's opportunities are the same. For Feihe, we have been actively prepared for it for a long time, and now everything is ready." He said.
It is worth noting that the announcement on further standardizing the labeling of infant formula milk powder products issued by the State Administration of market supervision requires that if there is a word of animal origin in the product name, all milk protein sources such as raw milk, milk powder and whey powder should come from this species.
This means that after the policy transition period on February 22, 2023, the "semi sheep" infant formula produced with cow's whey powder and sheep's milk will not be allowed to use the name of "sheep milk powder".
Under the new regulations, "half sheep" enterprises accelerate the transformation and survival, while "pure sheep" enterprises see opportunities. According to the statistics of insiders, as of November last year, there were 93 types of infant sheep milk powder registered through the formula of the State Administration of market supervision, including 53 types of "half sheep" formula powder using cow whey, accounting for 57%; There are 40 "pure sheep" formula powders using sheep whey, accounting for 43%.
▼
Pay attention to "xiaoshidai" (wechat: foodinc) "and reply to" Danone, obijia "to see the wonderful news.